DroneWISE 2022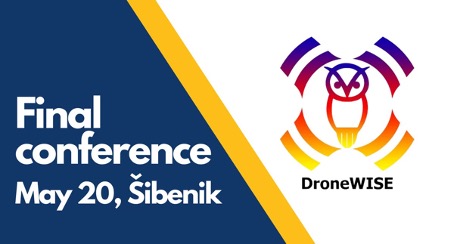 DroneWISE EU Final Conference 2022
20th May 2022, Šibenik, Croatia
SHIELD project was invited to the final conference of DroneWISE project, that took place in Sibenik, Croatia on Friday May 20th, 2022. Acceligence Ltd., technical partner with strong expertise in drones, attended the event as a representative of the 7SHIELD project consortium.
7SHIELD shares a similar topic with the DroneWISE project, which is composed of 6 partners representing 5 member states including Bulgaria, Croatia, Estonia, Germany and Greece, bringing forward a broad European perspective. In particular, DroneWISE main objective is to increase the preparedness of first-responder agencies to better coordinate their efforts, significantly improving the protection of public spaces and coordinated response to a terrorist attack using UAVs.
After participants were welcomed by the project coordinator Dr. Holger Nitsch from University of Applied Sciences for Public Service in Bavaria, Germany, and Filip Bonačić, the Croatian official representative and Member of the Advisory Board, the day started with an introduction to the DroneWISE project, its objectives and implementation phases by Dr. Holger Nitsch and Dr. Thorsten Stodiek. This was followed by an introduction of the DroneWISE training modules along with an extensive presentation of the training evaluation findings by Mr. Antonio Klobučar (Head of the International Cooperation and Projects Department) & Mrs. Jana Miriovsky (International Cooperation and Projects Advisor) from the University of Applied Sciences Velika Gorica, Croatia.
The final conference closed with a successful panel discussion where the latest trends in C-UAV, experience from practitioners, and need for further research were discussed. The panel was formed by C-UAV practitioners from EU MS authorities the moderator was Dr. Krishna Chandramouli. The panel also included questions from the audience to expand the discussion and increase audience engagement.