7shield Info Day
December 14 @ 8h30

-

17h30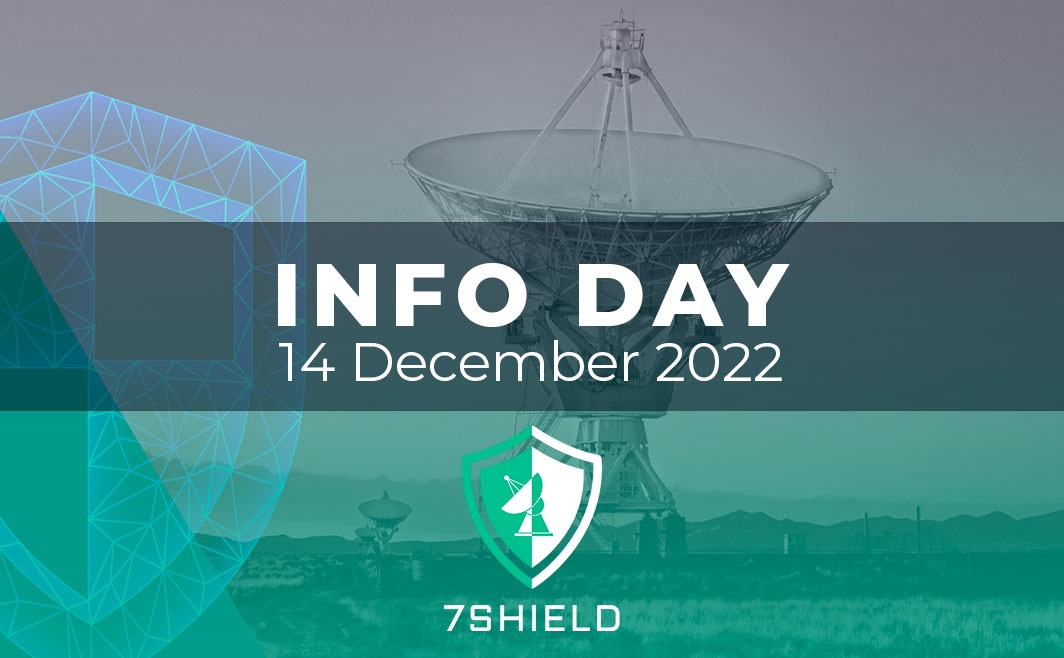 We are happy to announce the upcoming 7SHIELD Info Day, which will have a hybrid format (in presence and online) and will take place:
on Wednesday 14 December 2022
from 8:30 to 17:00
at Hôtel Bedford, Rue du midi 135 – 1000, Bruxelles
The Info Day aims to bring concrete elements, describing the achievements of the project and showing the results obtained in real conditions through our five Space Ground Segments acting as Pilot Use Cases. Interaction between project partners and external stakeholders is the motto of the event to assess the value of the 7SHIELD system in different context.
The project partners will be available to talk to you about the exportability of the project's results in your specific domain, with the possibility to create fruitful synergies.
Schedule:
08:30-9:00

Welcome to 7SHIELD infoday 

9:00-9:30

#1 – Introduction 

Context and purpose of the project: why the Ground Segments need to be protected 

 

9:30-10:35

#2 – Stakeholders and end user experience 

Interactive session in which everyone can share their experience in the context of security of Critical Infrastructures in the last 2 years 

Coffee break
 
11:00-12:00 

#3 – Demo pilots 

Partners involved in piloting the 7SHIELD framework tell their stories: methodology used for approaching the security of a Ground Segment and benefit in adopting the 7SHIELD modules 

12:00-12:35

#4 – Innovation activities showcase 

Presentation of the modules designed and implemented in 7SHIELD project for preventing, detecting, responding and mitigating cyber, physical and even complex combined cyber/physical attacks. How can the integration of state-of-art technologies improve the security of Ground Segments 

Lunch break
 
13:35-15:00

#5 – 7 thematic areas of security 


A trip through the 7 thematic areas of the 7SHIELD framework, discovering the reasons why they are useful for preventing, detecting, responding and mitigating threats.
During this session, through a concrete example of a cyber-attack, the involvement of the 7SHIELD modules of the various thematic areas is described.     

Coffee break
 
15:15-16:15

#6 – Physical elements

How to maximize the physical security of existing facilities and buildings with custom solutions 

16:15-16:45

#7 – 7SHIELD platform adaptability and flexibility

7SHIELD ability to cope with and adapt to unexpected situations in any Critical Infrastructure 

 

16:45-17:00
Wrap up – End of meeting 
Registration to the Info Day is open via the following link: